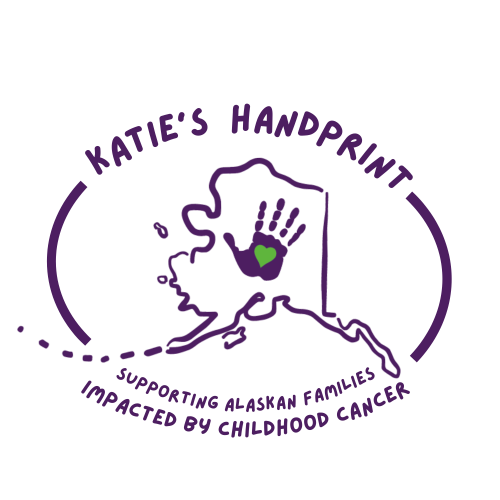 Giving back to our Alaskan Community
Katie's Handprint is a beautiful foundation named in memory of the Founder's daughter, who unfortunately lost her 3 year bone cancer battle, in January of 2015. During Katie's cancer treatment, her family experienced the unfortunate financial burden cancer treatment can cause. This is where they learned of organizations that are able to provide assistance to families, and decided to bring a foundation as such to Alaska to help our local families with children in treatment for pediatric cancer. Their goal is to help ease some of the financial burden, if even just a little.
Katie's handprint has helped a number of families, such as 5 year old Ezra's family. Ezra is from Eagle River and was diagnosed with Stage IV Neuroblastoma cancer just a few months after his 4th birthday. Being the youngest in a family of five, even if he is only one minute younger than his twin brother, he is the family's little warrior. Within 24 hours of Ezra's diagnosis, he was transported by medevac to Seattle, where he has continued to receive treatment since November 2020. For his parents, this has created a dramatic change in regards to running two households in Alaska and Seattle, bearing in mind his Father and brothers are still in Alaska. His Mother, as his primary caregiver in Seattle, and his Father traveling back and forth between Alaska and Seattle, to maintain stability for his family and career. Thankfully through organizations and Katie's Handprint, being a grantee helps take some stress off of an already stressful situation.
During the month of May we are teaming up with Katie's Handprint, to bring awareness and support to this deserving foundation. We ask that you help support this wonderful foundation as well. If you are not currently in need of vehicle service, please take a moment and stop by our conveniently located facility and make a donation via our donation jar.
"These guys are the best! A special thank you for all of your help with the RV today. This is our "go-to" place for vehicle repairs."
- Amy V. | Google Review | ★ ★ ★ ★ ★
"This is one of my favorite shops to go to, I can always trust them to take care of my vehicle. I had my clutch give out and was able to drop my vehicle off after shop hours, and the clutch was replaced within days. Offers good prices on oil changes as well."
- Jacob M. | Google Review | ★ ★ ★ ★ ★
"Always fast and courteous service; this place is great!"
- Emily A. | Google Review | ★ ★ ★ ★ ★
"Check engine light was on and they fixed it. Plus I got my tires done at the same time. Great experience even during Covid."
- Deane C. | Google Review | ★ ★ ★ ★ ★